The 2022 Subaru Love Promise Customer and Community Commitment Award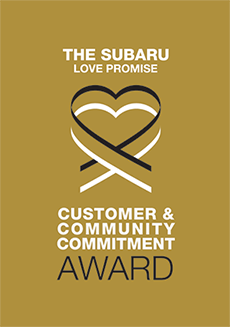 We've been nationally recognized for our dedication to our customers, our community, and the Subaru Love Promise.
We're honored to receive the 2022 Subaru Love Promise Customer and Community Commitment Award. This award nationally recognizes elite Subaru retailers who provide an exceptional customer experience at every interaction with Subaru. These retailers have also demonstrated an outstanding commitment to supporting passions and causes in their local communities in important areas such as the environment, community, health, education, and pets.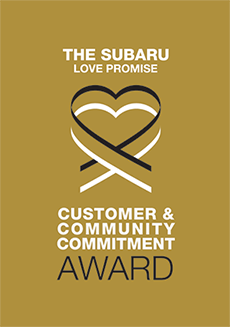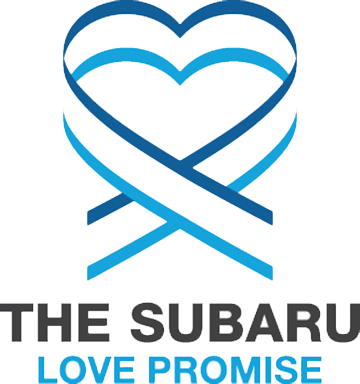 What is the Subaru Love Promise?
Subaru and our retailers believe in making the world a better place and the Subaru Love Promise is our vision of respecting all people. This is our commitment to show love and respect to our customers and to work to make a positive impact in the world.
How is Concordville Subaru dedicated locally to the Love Promise?
Our love promise is strive and do good in our community. To be a leader for good causes. A champion for positive organizations. To give back to the community that gives so much to us as a Dealership. To be an organization that customers in our community are proud to be associated with. To do the right thing.
Garnet Valley School District
Auto Dealers Caring for Kids, LCH Kennett Square & Jennersville, Siegel JCC
Nemours Children's Hospital/Delaware, Delaware Breast Cancer Coalition
Love Promise Stories from Concordville Subaru
Subaru and Concordville Subaru believe in making a positive impact on the communities in which we live and work. We uphold that belief through our Love Promise Community Commitment. Every month, we select inspiring stories from customers and partners from around our area who strive to support our collective commitment and feature them here
Unite for HER - Concordville Subaru Cares!! - Carol K
For several years, Concordville Subaru has supported Unite for HER, a 501c3 non-profit for which I volunteer. By donating to Unite for HER as a sponsor of their annual "Harvest" event, Concordville Subaru is helping support programs that benefit breast & ovarian cancer survivors in our community. Unite for HER partners with hospitals and professional providers to pay for services not covered by insurance. They also host many free Wellness Programs throughout the year and work with many organic farms to provide free weekly vegetable boxes during the growing season to survivors who need them. Concordville cares and even though they support so many other charities, they made the effort to support Unite for HER. As a loyal customer of this dealership, I am so grateful for them. They are truly caring, valuable members of our community.

---
Concordville Subaru and Leukemia & Lymphoma Society Deliver Comfort to Nemours Children's Hospital - Jennifer C
On June 6, 2022, Concordville Subaru and the Leukemia & Lymphoma Society Eastern PA-DE Region had the pleasure of delivering blankets and craft kits to patients at the Nemours Children's Hospital of Delaware as part of the Subaru Loves to Care program. Thank you to Concordville Subaru for bringing warmth and comfort to these very special patients and their families.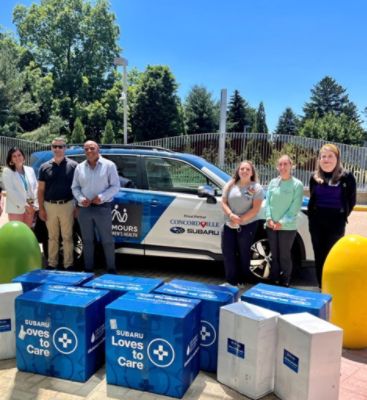 ---
CONCORDVILLE SUBARU WORKING WITH LEUKEMIA AND LYMPHOMA SOCIETY - KHALED M
Today June 6th, 2022 Concordville Subaru employees donated new blankets and art supplies to patients at Nemours Childrens Hospital in Wilmington, DE. These blankets will keep the children warm while they are being treated. We are so proud to be able to do this on a yearly basis.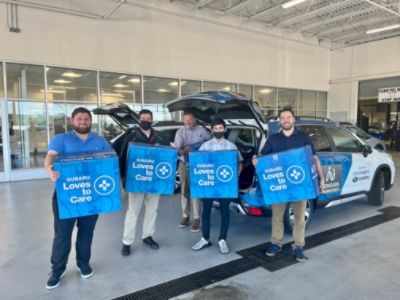 ---
Continued Support in 2021! - Becky P
Nemours Children's Health is pleased to recognize Concordville for their exceptional support in 2021. Thank to the dedication of the staff and the Lustgarten family, a donation of $18,500 was granted to Nemours in support of our Nemours Center for Cancer and Blood Disorders AYA Program. This unique program began thanks to the generosity of Concordville, enabling young adults access to various resources as they navigate their cancer journey. We are so grateful for our continued partnership with Concordville as they support our mission to provide our patients with the chance to grow up happy and healthy!
---
Concordville Subaru Continues to support - Mike K
Concordville Subaru continues to invest in the Environmental future. During the pandemic of the 2020-2021 school year the students of the Garnet Valley Horticulture and Aquaculture classes were given the assignment to research, design and build a Japanese style koi pond in their courtyard. The pond will be designed for students to learn how to properly house and maintain Japanese koi. This is an educational process that involves lots of moving pieces. The students must learn about the fish, what they need to survive and how to care for them. This process is an excellent way to introduce students into the importance of how to maintain and measure water quality and filtration techniques. Once students learn this knowledge it can be used to help maintain streams, rivers, lakes and any other body of water. This year 2021-2022 students were assigned an assignment to improve a part of their pond and incorporate it into an everyday ecological use. The students decided to focus on the use of natural plants to help with water filtration. Concordville Subaru decided to continue to support the project for students at Garnet Valley Middle School, and community again with this assignment and become part of teaching the students about the nitrification process in water. The students are going to introduce plants to the pond and measure the ammonia, nitrite and nitrate in their pond on a weekly basis. This project is a great way to allow students to have a hands-on learning experience. Concordville Subaru believes that environmental experiences like this for young children is an excellent way to increase their knowledge and excitement about caring for our world.
---
Subaru Loves Pets - To Love A Canine Rescue PA - Linda D
For the 3rd year in a row, Concordville Subaru and To Love A Canine Rescue (TLC) have partnered together for the Subaru Loves Pets event and jointly hosted a meet and greet adoption event at the dealership in October. The event was very well attended and several homeless dogs, that were in TLC Rescue foster care, were fortunate enough to find their forever families as a result of the successful event. Thank you to Concordville Subaru for their generosity and care and making such a big difference both in the community and also in these dogs lives!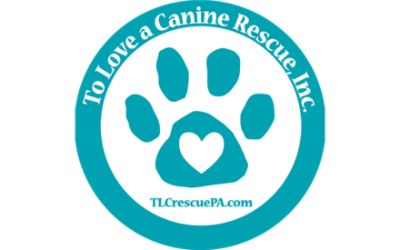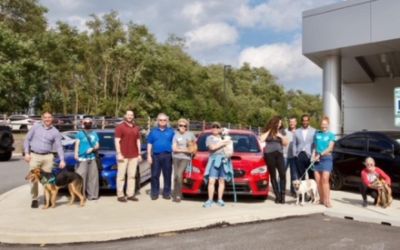 ---
3rd Year - Concordville Subaru & TLC Rescue - Linda D
2021 was the 3rd year that Concordville Subaru and To Love A Canine Rescue (TLC) partnered in October for the Subaru Loves Pets event. On October 16th, TLC Rescue and Concordville Subaru jointly hosted a meet and greet adoption event at the dealership. The event was very well attended and several homeless dogs that were in TLC Rescue foster care were fortunate enough to be welcomed into their forever families as a result of the successful event. TLC Rescue is very appreciative for Concordville Subaru's partnership and giving back to both the community and dogs in need. You are certainly making a huge difference in these dogs lives!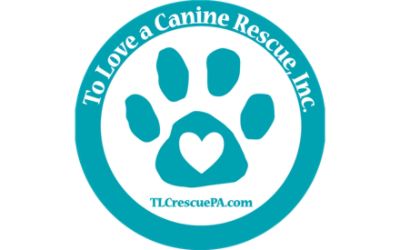 ---
Warm Wishes Coat Drive - Amanda B
As the Community Engagement Manager at LCH Health and Community Services, I'm incredibly grateful for the opportunity to work with Peter and the team at Concordville Subaru for our annual coat drive. This year, we are incredibly grateful for the team's donation of over 300 coats for children in our community. LCH provides health services to individuals in southern Chester County regardless of background and insurance status. While our services are available to everyone, a significant percentage of our population lives in poverty. Through this donation of coats, LCH will be able to distribute coats to children and their families who otherwise would not be able to afford them. It's only through this support that we are able to have this drive and offer these coats to families. We are also appreciative of the timely coat drop off each year, and all the assistance that the team provides in getting the coats to us. Concordville Subaru has truly proved to be a partner in service to our community and we are grateful for their work to better our community.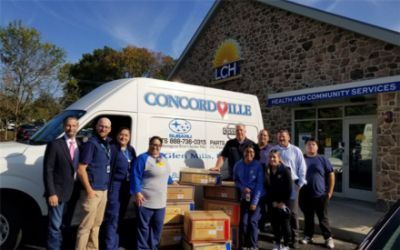 ---
Concordville Subaru Memorial Day Fundraiser - Peter L
This Memorial Day Weekend, Concordville Subaru raised $27,653 for the Nemours Fund/A.I. duPont Hospital for Children Nemours. Thank you to our customers for all their support of this great cause.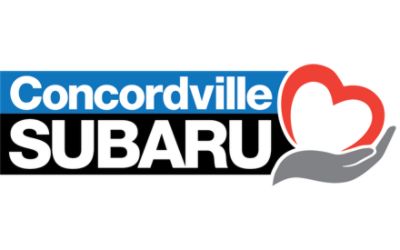 ---
Concordville Shares the love for Nemours! - Becky P
Throughout 2020, Concordville Subaru was an incredible advocate and supporter of Nemours and the Center for Cancer and Blood Disorders Adolescent and young adult program. Despite the global pandemic and the challenges it created, Concordville was able to raise just over $26,600 with the Share the Love program! Nemours is so grateful to have such an outstanding community partner in Concordville. The staff, management and owners go above and beyond to ensure that the annual fundraising event is a success. We cannot thank them enough!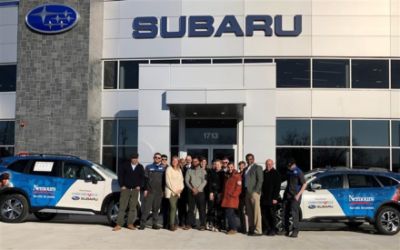 ---