The 2021 Subaru Love Promise Customer and Community Commitment Award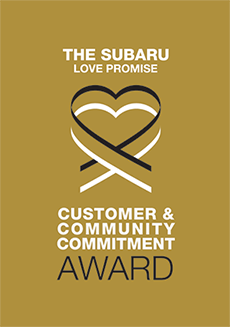 We've been nationally recognized for our dedication to our customers, our community, and the Subaru Love Promise.
We're honored to receive the 2021 Subaru Love Promise Customer and Community Commitment Award. This award nationally recognizes elite Subaru retailers who provide an exceptional customer experience at every interaction with Subaru. These retailers have also demonstrated an outstanding commitment to supporting passions and causes in their local communities in important areas such as the environment, community, health, education, and pets.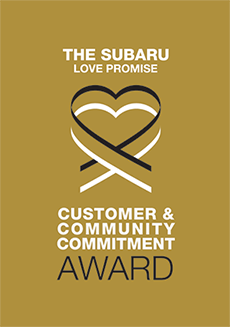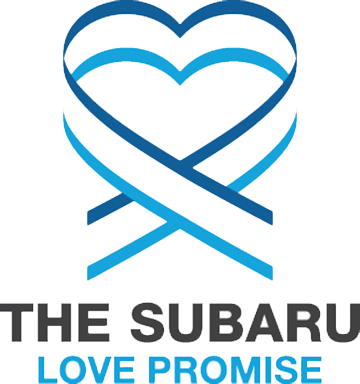 What is the Subaru Love Promise?
Subaru and our retailers believe in making the world a better place and the Subaru Love Promise is our vision of respecting all people. This is our commitment to show love and respect to our customers and to work to make a positive impact in the world.
How is Concordville Subaru dedicated locally to the Love Promise?
Our love promise is strive and do good in our community. To be a leader for good causes. A champion for positive organizations. To give back to the community that gives so much to us as a Dealership. To be an organization that customers in our community are proud to be associated with. To do the right thing.
Auto Dealers Caring for Kids
DuPont Childrens Hospital, Delaware Breast Cancer Coalition
Love Promise Stories from Concordville Subaru
Subaru and Concordville Subaru believe in making a positive impact on the communities in which we live and work. We uphold that belief through our Love Promise Community Commitment. Every month, we select inspiring stories from customers and partners from around our area who strive to support our collective commitment and feature them here
Concordville Subaru Memorial Day Fundraiser - Peter L
This Memorial Day Weekend, Concordville Subaru raised $27,653 for the Nemours Fund/A.I. duPont Hospital for Children Nemours. Thank you to our customers for all their support of this great cause.
---
Concordville Shares the love for Nemours! - Becky P
Throughout 2020, Concordville Subaru was an incredible advocate and supporter of Nemours and the Center for Cancer and Blood Disorders Adolescent and young adult program. Despite the global pandemic and the challenges it created, Concordville was able to raise just over $26,600 with the Share the Love program! Nemours is so grateful to have such an outstanding community partner in Concordville. The staff, management and owners go above and beyond to ensure that the annual fundraising event is a success. We cannot thank them enough!
---
Concordville Subaru supports School Koi Pond - Garnet Valley M
Peter Lustgarten and Concordville Subaru are big sponsors of their local community. One program they hold close to their heart is the Garnet Valley Middle School horticulture and aquaculture program. This is a program that allows students to take the hands on learning process to the next level. Students in this class are encouraged to dream, create, collaborate and invent new ways to address some of our worlds ecological concerns. This year Garnet Valley H/A teacher Mike Krautzel challenged his students to create something new and beautiful for the school. The project had to involve some form of either horticulture or aquaculture. The last rule of the project is that it had to incorporate STEAM. STEAM stands for Science, technology, engineering, art and math. The students worked hard creating many great ideas, but the project that stood out the most, was Japanese style a koi pond. The students are taking on the task of designing the structure, creating the proper ecosystem for the fish to live and thrive, understanding the ongoing maintenance of water quality and it will be the students who are responsible for caring for the pond as part of the class for years to come. The students have been working hard designing the pond, the filtration system and over all aesthetics of the pond. They are also working on learning the history of Nishikigoi. Which is the history of Japanese koi. The last part of the project the students created was getting local businesses to help sponsor the koi pond. Concordviile Subaru and Peter Lustgarten became a key sponsor of the pond build. Peter understands the value of teaching students all of the benefits of this project and has agreed to be a sponsor of the students project. Without sponsorship, this project will be difficult to complete. We are very thankful to all of our sponsors and look forward to making this project come true for our students
---
Injury Prevention Vehicle Helping Keep Kids Safe - Jennifer M
Nemours/Alfred I. duPont Hospital for Children is so grateful to Concordville Subaru and Subaru of America, Inc. for providing our Trauma Program with a Subaru Outback. The vehicle is used by our Injury Prevention Coordinator, Jennifer McCue, to travel throughout the region teaching free safety programs to children and adults. Last year, Nemours taught 390 programs providing safety education to help prevent injuries. These programs include dog safety, proper car seat use, bicycle safety, the importance of wearing a helmet along with proper fit, playground safety, school bus safety, and pedestrian safety. Concordville Subaru also helps provide safety education by holding car seat checks and injury prevention displays at their dealership. The team at Concordville Subaru truly cares about their community by supporting all if these programs.
---
TLC Rescue & Concordville Subaru Save Dogs Lives - Linda D
Concordville Subaru and To Love A Canine Rescue PA (TLC Rescue) partnered together in October 2021 for the Subaru Loves Pets event. Together they hosted a Meet & Greet at the dealership with several TLC Rescue foster dogs and volunteers there to greet the guests. The event was very well attended and as a result of the community engagement, several homeless dogs that were in TLC Rescue foster care found their forever homes. This is the best possible outcome and would not be possible absent the foster dogs getting such visibility at Concordville Subaru. TLC Rescue thanks Concordville Subaru for your support, partnership, and commitment to helping homeless dogs celebrate the holidays in a safe, healthy, and loving home. Thank you!
---
Coats for Kids in the Community - Amanda B
Each year, LCH Health and Community Services runs a Coat Drive that gives coats to children in the community. We are only able to do this with the help and donations from Concordville Subaru. This year, LCH saw increased need for coats and we are so grateful that with the help of Subaru, we were able to meet the need. 2020 has been a difficult year for many of our families and thanks to this contribution, families are able to provide their children with a new coat to stay warm during the winter. Given the unprecedented pandemic, coats for children are critical in allowing to them to participate in outdoor activities in the winter. Thanks to the generosity of our partner in this event, we were able to provide that opportunity to children across southern Chester County. Thank you for making this event possible.
---
Labor Day Fundraiser - Cheryl G
Concordville Nissan and Concordville Subaru in Concordville, Pennsylvania, have held holiday weekend fundraising sales for A. I DuPont Hospital for Children/Nemours Fund for Children's Health since 2006. The dealerships donate $100 for every new and used car sold between the two dealerships over the three day holidays of President's Day, Memorial Day, Labor Day, and Columbus Day. Between this endeavor and Subaru's Share the Love, both dealerships have donated over $500,000 towards various projects that they have sponsored, including the NICU, Family Resource Center, Autism Clinic, and currently childhood cancer. In addition, the dealerships pay for the lease of two Subarus used by the hospital for community outreach.
---
Support for Joseph's Pantry - Kim v
Concordville Subaru has twice donated multiple boxes of food to Joseph's Pantry. These donations have greatly benefitted our pantry and our clients, and we Thank You very much!! Joseph's Pantry is a food pantry serving the Ninth Ward in Wilmington, Delaware and the greater Wilmington area. We are open every Tuesday evening to distribute food, personal care and household items to those struggling financially. Please feel free to visit Joseph's Pantry at 300 West Lea Blvd, Wilmington, DE 19802 any Tuesday from 5-7pm. You can also find us on Facebook at "JosephsPantryofCBE".
---
Local Subaru Helps Middle School - Mike K
Our local Subaru dealership has gone above and beyond to help our school with a new program offered at our school. This year, our school has started a horticulture and aquaculture class. After hearing about the class, Concordville Subaru sprung into action and asked how they can get involved. The support we have received from Concordville Subaru has been amazing! Not only have they stepped in to help us purchase products we have needed for class, they have also reached out to see how the students are doing in the class. Their owner has shown that he is really invested in our school and the growth of our students. Our horticulture program has a collection of lilac, clematis, daffodils hydrangea and roses. Yes, roses we have over 1000 roses growing in our school. The students tend to the gardens, they learn the importance of weeding, pruning, mulching and composting. They have created videos on how to take care of our plants and have shown tremendous growth in knowledge in this field. It is because of the support of companies like Concordville Subaru that our students are given the opportunity to do this on a daily basis. Our aquaculture program has a collection of 11 reef tanks. Here the students are able to learn about how to maintain water parameters, fish and care. These are definitely higher level skills for middle school students. They have to combine knowledge from many different aspects of school to make this happen. Our support from Concordville Subaru has been amazing. They have been there every step of the way to make sure the students have what they need to make this class a fun hands on learning environment for the students. Thank you Concordville Subaru for constantly supporting our program and all of the wonderful benefits it has to the education of the students at Garnet Valley Middle School
---
LCH Warm Wishes - Amanda B
Thanks to the team at Concordville Subaru, 300 children served by La Comunidad Hisapana (LCH) will be a little warmer this season because of a donation of new, warm winter coats for children in our community. Each year, LCH holds the Warm Wishes Coat Drive where the coats are distributed to those in need. The drive would not be possible without the generosity of Concordville Subaru and this contribution. LCH and the families we serve are incredibly grateful for this support of our annual event. Thank you for warming the hearts of those we serve.
---
TLC Rescue PA & Concordville Subaru - Saving Dogs - Linda D
A huge thank you to Concordville Subaru for hosting TLC Rescue Pa, a 100% foster based rescue located in Malvern Pennsylvania, on Thursday October 9th, 2019 in support of the Subaru Loves Pets event. What a fun night! TLC Rescue had 12 homeless dogs/puppies that are currently in foster care at the Concordville Subaru Meet & Greet event. As a result of Concordville Subaru's support and generosity, hopefully 3 of these dogs have found their forever homes! Thank you also for all the goodies and toys. They will absolutely be put to great use by all the dogs in foster care. #tlcrescuepa
---
Light The Night - Concordville Subaru J
The Leukemia & Lymphoma Society's Light The Night Walk Funds treatments that are saving the lives of patients today by providing patient support services, advocating for life saving treatments, and pioneering cancer reasearch. This is the second year Concordville Subaru has organized a Team of coworkers and their families to walk at Nemours/A.I duPont Hospital for Children. In the fall teams "Light The Night" gathering together to raise funds, celebrate, honor and remember those touched by cancer.
---
Concordville Subaru Partners with LLS - Vienna P
For the fourth consecutive year, Concordville Subaru has partnered with the Leukemia & Lymphoma Society for the Subaru Loves to Care initiative. During this time, the organizations work together to deliver craft kits and blankets to Nemours/Alfred I. DuPont Children's Hospital. The Leukemia & Lymphoma Society is honored to partner with such a dedicated organization to provide comfort and support to children in the community and looks forward to working with the great staff at Concordville Subaru for years to come!
---
Concordville Subaru Share The Love - Becky P
Nemours/Alfred I. duPont Hospital for Children was proud to once again be named the local charity partner for Concordville Subaru's Share the Love Campaign The outstanding sales team worked tirelessly to educate their customers about our mission to support the health and well being of children. Through their enthusiasm and effort, Concordville Subaru was able to DOUBLE their donation from last year to just over $25,000 in 2018! Nemours is so grateful for the fantastic team and community at Concordville Subaru.
---
Concordville Supports Ourrs Kids! - Becky P
Concordville Nissan/Subaru has been a tremendous partner of the Nemours/Alfred I. DuPont Hospital for Children for many years, supporting the hospital through fundraising during the holiday weekends. The ownership, management, and staff of the dealerships are genuinely invested in supporting our children through car sales, and it shows! The most recent President's Day Sale resulted in $5,800 in fundraising dollars. We are so grateful to have such a dedicated, community partner who is truly invested in the wellbeing of the children of Nemours.
---
Warm Wishes: Coats for Kids of All Ages - Laura M
Thanks to the team at Subaru, almost 400 children in southern Chester County received a new, warm coat for the winter season. The night of our distribution was an evening of joy and warmth for so many families in our community. The pride and happiness of these kids in their new coats are incredible. Despite any tough situations or hardships, families are experiencing this time of year, our Warm Wishes coat drive is a way for the community to step back and have fun. It warmed all of us at LCH--patients, volunteers, and staff alike--to have Subaru as part of our annual event!
---
Donation enhances Concord's science curriculum - Kristen C
Concord Elementary has been the lucky recipient of over a hundred children's books, generously donated by Concordville Subaru. The books are part of the Subaru Loves Learning initiative, in partnership with the American Association for the Advancement of Science (AAAS). Our students have benefited from this additional boost of science related books, and have been enjoying learning from each title we received. Thank you, Concordville Subaru, for furthering the development of science in our library and classroom library collections for the benefit of all Concord students.
---
LLS Light the Night 2018 - Zach H
Concordville Subaru is a proud sponsor and participant in the Leukemia & Lymphoma Society Light the Night Walk. We are proud to support LLS' mission of a world free of blood cancer. Dealer Principle, Peter Lustgarten and General Manager, Moe Laraki, participated in the walk with members of their families. They hope to help light the path to a cure!
---
Vehicle Donation to Nemours for Community Outreach - Zach H
Nemours A.I. duPont Hospital for Children Injury Prevention Coordinator, Jennifer McCue, travels throughout the region in a brand new Subaru Outback provided by Concordville Subaru, teaching free safety programs to children and adults. Thanks to the partnership with Subaru of America, Inc. and Concordville Subaru, they are able to educate the community about the importance of vehicle safety and other injury prevention initiatives.
---
The Leukemia & Lymphoma Society - Delaware Chapter - Zach H
Last Wednesday, LLS Delaware partnered up with A.I duPont Hospital for Children and Concordville Nissan to deliver blankets, craft kits and heartwarming notes of hope and support to cancer patients currently undergoing treatment. The event was a success. Thank you to everyone involved!
---
Concordville Subaru - Vienna P
Concordville Subaru is a third year participant in the Subaru Loves to Care initiative. During this time, the dealership partners with Leukemia & Lymphoma Society to deliver patient care items to a local hospital. The dealership has a long-standing relationship with the Nemours/A.I. duPont Hospital for Children, and was thrilled to be able to partner with the health center again this year. The delivery of patient care items took place on July,19, and included 80 blankets, 20 craft kits, and about 20 care cards. The owner and manager of the dealership were present for the delivery, as well as several hospital staff and LLS employees, who all enjoyed a "coffee hour" event hosted by hospital staff. The hospital staff was extremely grateful for all of the donated items and couldn't thank Subaru and LLS enough, stating that patients and their families absolutely love the comfort of a warm blanket, reading messages of hope from those in the community and enjoying some downtime with the kids craft kit. The Leukemia & Lymphoma Society is thankful to have the opportunity to work with those at Concordville Subaru as well as the hospital staff at Nemours/A.I. duPont Hospital for Children to bring comfort to children and their families at a time when they need it the most. LLS looks forward to working with the great staff at Concordville Subaru for years to come!
---
Memorial Day Weekend Event at Concordville Subaru - Zach H
Our Memorial Day Weekend Event at Concordville Subaru was a success! We were able to donate $5,800 to Nemours - A.I duPont Hospital for Children for the 58 vehicles that were sold during the 3 day event.
---
Concordville Subaru Supports Ronald McDonald House - Zach H
Ronald McDonald House provides environments and offers support and resources for families of sick children to stay during their treatments. Concordville Subaru offered their assistance during their telethon event!
---
Donation to The Jewish Family Services of Delaware - Zach H
This family spent 20 years in a refugee camp in Tanzania. First they make a stop at Jewish Family Services (with culturally appropriate food and a welcome team). Then they head to their apartment to start a new life in our community. Concordville Subaru was able to assist in the donation of beverages and sleeping bags.
---
Donation to Nemours Hospital for Children - Zach H
Concordville Subaru & Super Bowl Champion Fletcher Cox stopped into Nemours/Alfred I. duPont Hospital for Children on 2/12/18 with their donation of over $1600! Every sack Fletcher made during his season, Concordville Subaru donated $250. Fletcher also took time to visit with the patients and families before heading home to his own family. It was a great turn out and we are excited to do it again next year!
---