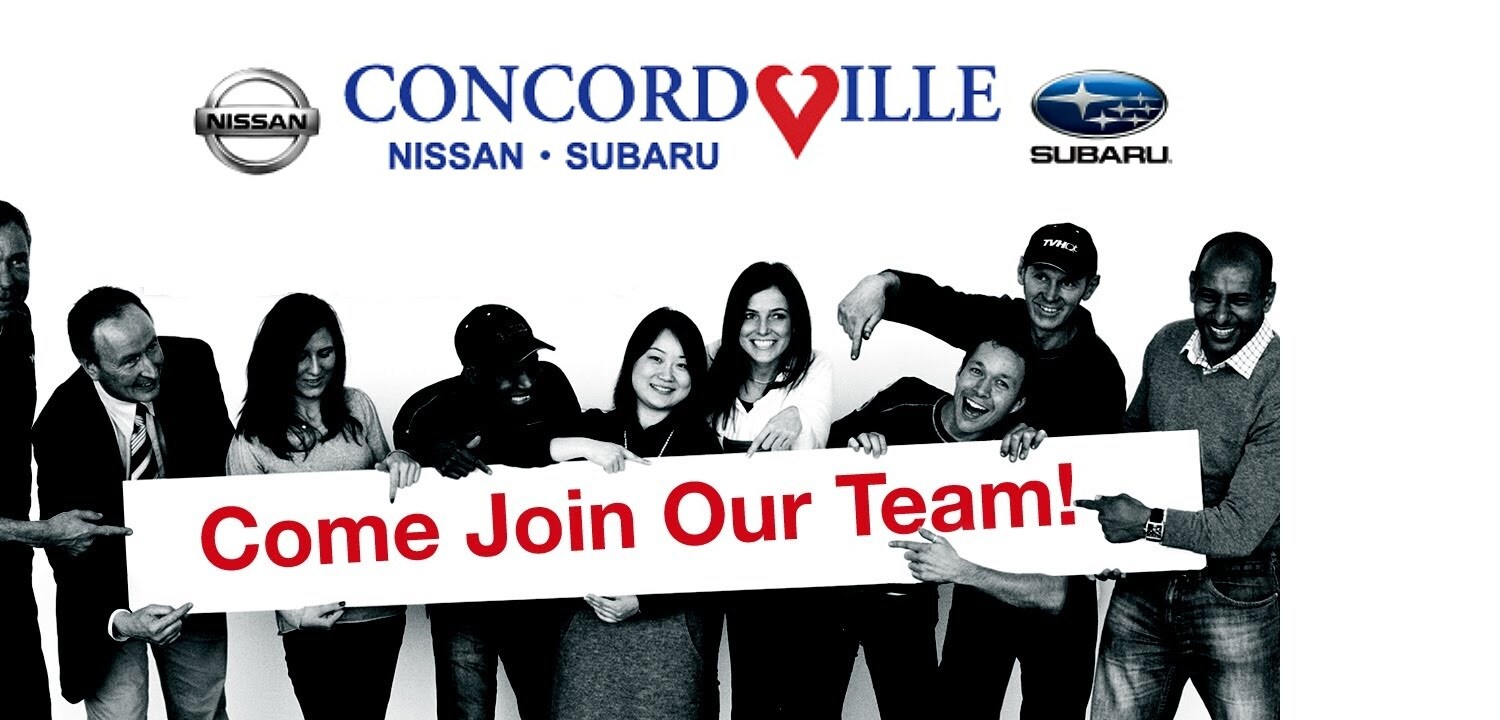 Sales Associates - Sales Consultants

Put your career in High Gear.....

Huge Earning Potential.......
If you are looking for an opportunity to work for a fast growing, family owned dealership, Concordville Subaru is for you! Concordville Subaru is always looking for a qualified individuals to join our sales team to help handle the increase in business we are experiencing.
At Concordville Subaru, we strive to make every customer a customer for life. Happy employees make happy customers, and we reward individuals who are ready to work hard and stay motivated. At Concordville Subaru, we believe our employees are our greatest asset. As such, we treat all employees with respect and appreciation for their contributions to the company. We believe not only in providing ongoing training, but also rewarding outstanding effort and results through bonus and commission programs.
What We Offer
Medical and Dental
401KPlan
Paid time off and vacation
Growth opportunities
Paid Training
Employee vehicle purchase plans
Family owned and operated
Long term job security
Health and wellness
Flexible Work Schedule
Saturday Lunches
Discounts on products and services
Responsibilities
Build relationships & create customers for life. Assist them in selecting a vehicle by asking questions and listening carefully to their responses.
Be the vehicle expert. Know the in's & the out's of product offerings, optional packages & latest technology
Perform high-quality and professional demonstrations of new/used vehicles.
Follow-up with buyers to ensure referral business.
Learn to overcome objections and thrive in sales situations
Direct report to the Sales Manager regarding objectives, planned activities, reviews, and analyses.
Bring your 'A game' & positive attitude with you every day
Qualifications
Available to work flexible hours & weekends
Ready to hit the ground running on learning new product in's & out's
Fantastic communication skills with your customers
Professional, well-groomed personal appearance.
Clean driving record
Willing to submit to a pre-employment background check & drug screen
Customer Care Representative, Sales Associate, Sales Representative, Host, Hostess, Sales Professional, Mazda, Hyundai, Kia, Chevrolet, Dodge, Jeep,
Automotive Technicians - Automotive Mechanics
Concordville Subaru just moved into our brand new state of the art, climate controlled shop. We are looking for motivated technicians of all skill levels to join our busy service department. If you are looking to maximize your time and forward your career, stop in and check us out.
We Offer
Excellent Pay Plan and Bonus for top performers
New Air Conditioned and Heated Shop - New Equipment
Consistently Busy shop
Excellent Team work enviornment
Paid Vacation and Sick Time
Health Insurance
Dental Insurance
Paid Factory Training to Advance your career
Disability
401k with Employer match
Family Owned and Operated for 30 years
AUTOMOTIVE DETAILER/DETAIL TECHNICIAN
Concordville Subaru. We are looking for professional detailers to come join our growing family.
Brand New Facilities
$$$$ Our Shops are always busy. Huge Earning Potential $$$$
Concordville Subaru is in search of full-time automotive detailers for our Recon Departments. We are looking for hard working individuals with a sense of pride in their work to join our growing family..
Responsibilities
Full detailing of new/pre-owned vehicles
Experience in full detailing prep work
Prepare new cars for customer delivery
Perform full detail on customers cars
Assist with stock-in/check-in new vehicles
Pinstriping/Accessories
Qualifications
Sense of Pride in your work
Able to work well with others and learn new tasks
Enjoy working in a fast-paced environment
Positive, friendly attitude, along with a customer service mentality
Strong work ethic
Desire to work hard and earn $$$$
We Offer
Great work enviornment
Huge Earning Potential
Medical and Dental Benefits
Life Insurance
401K with Employer Match
Consistently Busy Shops
Brand New Facilities
On the Job Training
Career Path for Growth
Make an Inquiry